How To Accent Your Pool Area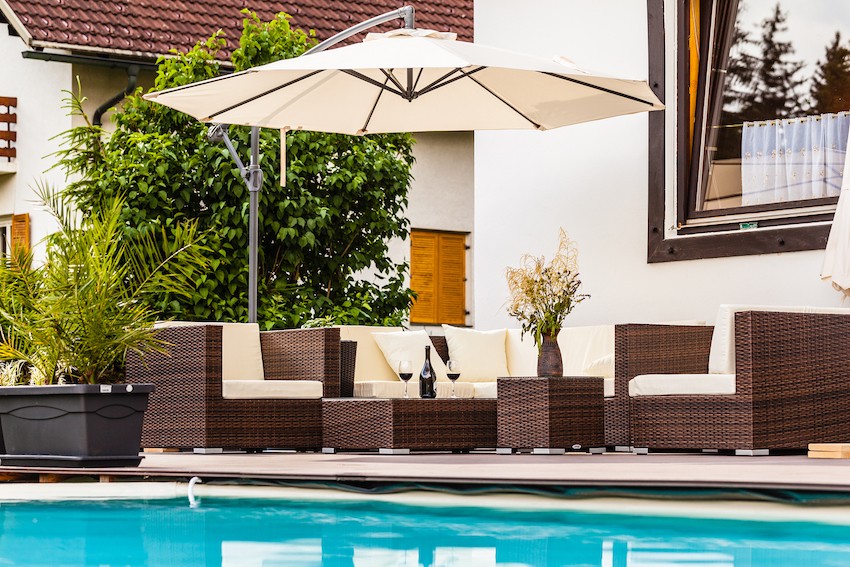 You're wondering how to decorate a pool? Here are some useful tips for you!
Furniture
When choosing furniture, make sure that it is both beautiful and functional. Think about what you need out of your pool, like shade and seating. Does your solution need to be tucked away or can it be left out at all times?
Shade
Shade is a necessity to prevent skin damage and sun burns. There are permanent shading options such as a pergola or a canopy. If you do not have the room for a permanent option, there are many fold away gazebo options that can still look great while providing you with cover.
Seating
You need to think of what functionality you need out of your seating. Do you want to sunbathe, have a large social setting, or do you just need a chair or two? Sunbathing chairs lean back and often have a pillow attached so you can relax. If you wanted a social area for friends to come over and enjoy your pool with you there are plenty of furniture sets that can hold even a large party. Whatever you choose, be sure that the location of all of your seating enhances the atmosphere of your pool.
Landscaping
Our pool construction San Antonio team knows that landscaping around your pool can transform the experience into a true getaway. Remember to use native plants and even hardscaping such as rocks, tile, and wood to give your pool the added pop it needs to stand out.
Plants
When choosing plants to accent your pool try to use native plants that can withstand your local weather. If you want to use exotic plants to give it a tropical vibe remember what that plant needs to thrive. By accenting your pool with plants, you can create a defined space in your backyard. Some plants like Honeysuckle can be trained to wrap around a fence, giving you more privacy.
Hardscaping
Hardscaping, much like landscaping, substitutes soil and grass and instead uses materials that will not have to be maintained as often. Many homeowners choose to use hardscaping around their pools because it is both low maintenance and beautiful. Using rocks, wood, and tiles, you can create patterns on the ground that make a statement and can be used for a seating area. Water features and waterfalls are often used to create movement around your pool; they also create a peaceful sound.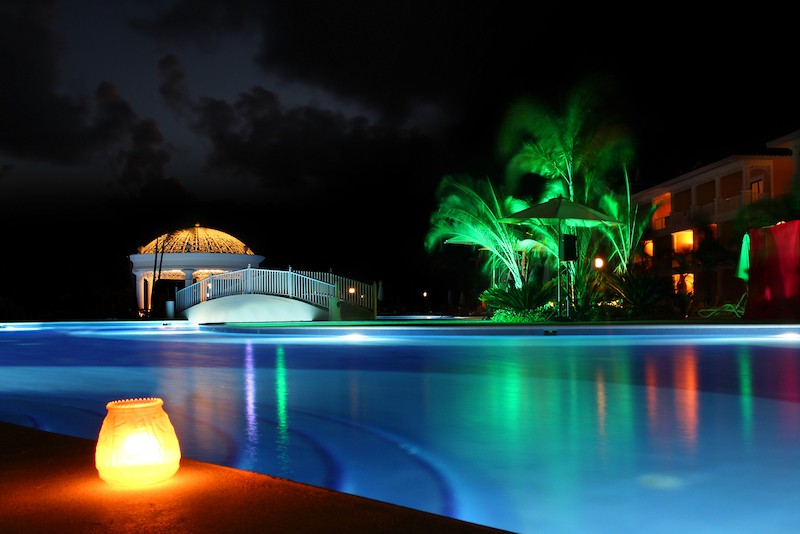 Lighting
Lighting is used to accent your pool area and highlight all of your hard work. Whether you need lighting for functionality or to leave your guests stunned, a few well-placed lights can make all the difference.
In Pool Lighting
Having lights in your pool can not only make a nighttime dip a little easier but also create a spectacular lighting piece. Nowadays, in ground pools come with lighting installed in them when you have the pool made.
However, adding a little extra light never hurt. All kinds of floating lights can be purchased that give your pool the pop it needs. For example, this light changes colors and can create a small fountain within your pool.
Out Of Pool Lighting
Having lighting outside of your pool can be used to highlight the hardscaping or the plants you have used to create such a lovely atmosphere. By using lighting to accent your pool area, you create more of a statement while also providing light for nighttime safety. String lights can be used around your seating or shade area to complete your look and give your pool area an inviting glow.