How much does it cost to Build a Pool: A couple of things to consider
You've been envying the neighbor's backyard swimming pool and you very much want one of your own. It would be a great place for the kids to play, to enjoy a cold drink on a warm summer night or just a peaceful spot to unwind or maybe even get some work done from time to time.
But then there's the million dollar question – how much does it cost to build a pool in San Antonio? You might be also wondering how much it costs to maintain a customized in-ground swimming pool in my backyard? San Antonio pool businesses are very competitively priced competing with one another all year around.
Well there's really no simple answer to that question, and that's because of the many different variables involved. What kind of amenities or extras are you going to want? How big do you want the pool to be? Are you going to want an expanded patio with all of the bells and whistles? Do you want a hot tub or spa as well?
These are all questions that need to be answered before you can get a realistic estimate of how much a swimming pool is going to cost you to install and that's something our pool construction San Antonio specialists can help you with!
But what we can do is give you some national averages as it relates to swimming pool construction and maintenance. So let's take a look…
The first thing to keep in mind is that installing a pool is not something that's going to be accomplished quickly. It generally takes months from the moment inspiration strikes to when you can finally change into a swimsuit and jump into your very own swimming pool.
And there's a multitude of decisions and key moments that will take place during that time.
Pool Costs and Pricing Guide: All Costs Associated with Building a Pool in San Antonio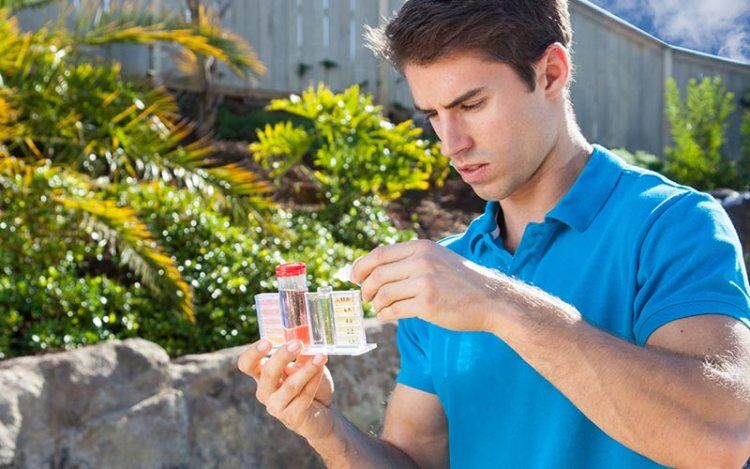 Now, about the cost. This is usually the most important consideration when it comes to installing that swimming pool you've been coveting for years. It will be great, to be sure, but it is going to be a bit of a budget buster.
According to estimates from homeadvisor.com, the average cost in the United States for installing an in-ground swimming pool is between $35,583 and $65,419, with the average outlay being in the neighborhood of $50,000.
Fiberglass and vinyl pools are a little less expensive than concrete ones, though the latter is usually the most durable.
Pool Maintenance Costs in San Antonio
Over a 10-year period, again using averages available online, the maintenance of a concrete swimming pool is going to cost you an average of $27,000 to $40,000. This includes acid washing, re-plastering, and other repairs and maintenance issues that are sure to come up over time. In regard to pool remodeling San Antonio home owners usually spend between $10-15,000.
By comparison, vinyl pools will cost an average of $11,000 and $17,000 during that 10-year time period and fiberglass pools will run an average of $4,000 to $6,000 during the decade following the installation of your swimming pool.
So, it really depends on what you want and how much your budget is. Each type of pool has advantages and disadvantages, so take some time and decide what's best for you and your family.
Another factor that comes into play when deciding on a backyard swimming pool is the size and actual location that you have in mind. On average, figure $40 to $90 per square foot for the construction of your pool.
Other Costs Associated with Building a Pool
And then there are the amenities. These really run the gamut of your imagination, but here are a few examples:
A spa or hot tub will cost around $5,000 to $8,000. If it's to be built-in and needs excavation, figure $15,000 to $20,000.

If you want a slide, figure on an additional $1,000 to $5,000, depending on the design and manufacture of the slide.

If you want lighting in your pool, lights usually run between $100 and $300 each.

Diving boards generally cost between $300 and $600 for fiberglass or around $1,000 for aluminum.

If you want a heater, this will cost between $1,500 and $4,000.

It's probably a good idea to have a fence and gate for safety and security. Figure between $15 and $20 per linear foot for fencing and $200 to $350 for gates.
How much does it cost to maintain a pool yearly?
We've already given you estimates for a 10-year time period, but those can include large bills that must be paid all at once. On a yearly basis, expect to pay between $1,200 and $1,800 a year in basic upkeep, not including any repairs and utility bills. For Pool cleaning, San Antonio pool owners will likely pay about $30-50.00 a week.
Does a swimming pool add value to a property?
Sadly, this is not usually the case. Never add a swimming pool with the intention of adding value to your home, but simply as a place to enjoy as a family. Experts recommend never spending more than 10 to 15 percent of what you paid for your home on a swimming pool. Any more than that and you risk investing too much in something that's probably not going to pay you back in the long run.
Can you finance the installation of a swimming pool?
Absolutely, and nearly everyone who builds one goes this route. Just visit your favorite financial institution and ask about what types of loans they have for swimming pool construction. And then visit a few more, so you can compare and see who has the best deal available for your situation.
How much will a pool cost me in utility bills?
National averages show electricity costs for running a backyard swimming pool are anywhere between $800 and $1,200 annually, consuming between 2,000 and 3,000-kilowatt hours of electricity. If you have a heating element in your pool, this will be much higher.
How much will it cost to fill my pool with water?
A truckload of water is usually comprised of about 6,000 gallons, with swimming pools averaging around 30,000 gallons. So for five truckloads, including the cost of the water and the delivery charge, expect to pay an average of around $1,250 to fill your pool. You can, of course, fill the pool yourself, but even a small pool will take between 12 and 24 hours to fill. You also run the risk, if using well water, of running your well dry during this process.